Montclair High School
Class Of 1961
In Memory
Suanne Morse (Price)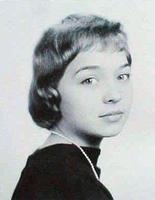 Sadly, Suanne Morse passed away October 19, 2018. This was written by Suanne's children.
"27, 713 sunrises. Mom's favorite earthly event. The next one she sees will be from a much better vantage point. I can assure you she was peaceful on her way up. I was too. May God bless her." My mother-in-law Suanne M Price passed away yesterday with Dan holding her hand. We will miss her greatly. It's hard to fathom a life without her in it.
BERNARD, ME. Suanne Morse Price, 75, died Friday, October 19, 2018, at an Ellsworth hospital after a brief illness. She was born on December 4, 1942, in Passaic, NJ, the daughter of Robert W. and Ruth B. Morse.
Suanne graduated from Montclair High School and continued her studies in art in Italy. Suanne's first marriage to Sheldon F. Goldthwait Jr. ended in divorce in 1978. Suanne married Alison H. Price in 1982, and he passed away in 2005.
Suanne worked for many years as a crisis counselor helping those who were struggling access much-needed care. Using her many skills and love of art, Suanne also worked for a number of years at Westside Florist and as an interior designer. Suanne was happiest surrounded by her family and friends. Her smile was brightest with a houseful of people or while at a picnic on the beach. She is remembered for her warmth and kindness especially to those who were having a difficult time.
Suanne is survived by her brother, Wick of California; her daughter, Jennifer Ruhlin and her husband, Reg, of Bangor; her son, Daniel Goldthwait and his wife, Carol, of Pasadena; grandchildren, Kate and Eliza Ruhlin and Sebastian and Santiago Goldthwait; Al's siblings, Franklin Price of Florida, Lowell Price of Colorado, and Robert Price of New Jersey; and Alice's children, Liam, Addie, and Franklin. Suanne is also survived by her beloved cat, Smee, who has been a loyal friend and companion.
Suanne is predeceased by her parents, her husband, Al and Al's sister, Alice Price. A memorial service will be held at a later date.
The family would like to thank the staff at Maine Coast Memorial Hospital for their professional and compassionate care as well as At Home and Meals on Wheels for their kind care and companionship. We would also like to thank our family and friends for their amazing support over the last few difficult weeks.
Gifts in Suanne's memory can be made to the following organizations: SPCA of Hancock County, 141 Bar Harbor Road, Trenton, ME 04605, or Bass Harbor Memorial Library, 89 Bernard Road, Bernard, ME 04612.