Montclair High School
Class Of 1961
In Memory
Robert Osborn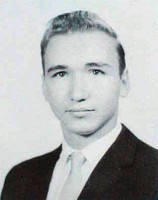 Richard Robert Osborn, 73, of Arlington, Massachusetts, passed away on December 23, 2016 at Mass General Hospital after a two month battle with pancreatitis.
Robert was born on May 31, 1943 in Brooklyn, New York to Harold and Winifred Osborn (née Hayes). He graduated from Montclair High School (NJ) in 1961 and continued on to receive a Bachelor's of Science in Physics from Columbia University in 1966.
Robert worked across many aspects of computer hardware and algorithms and was an innovator in voice recognition and image compression. He constantly expanded his knowledge in all areas of science and technology and was an avid reader of engineering and scientific publications. He enjoyed exploring: going for long walks, driving across the country in very small roadsters, and investigating the wonders of the universe.
Robert is survived by his two children, David and James; his significant other, Joanne; and his sister, Winifred.
.