Montclair High School
Class Of 1961
In Memory
Bob Martin VIEW PROFILE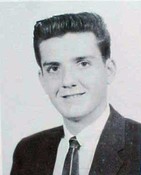 Robert Revere "Bob" Martin, born September 12, 1942 in East Orange, New Jersey died May 31, 2005 in Corpus Christi, Texas at the age of 62.
Bob came to Corpus Christi in 1965 to attend the Unicersity of Corpus Christi(UCC). It was at UCC that Bob met and married his loving wife of thirty-six years, Evie, from Bangor, Maine who was attending UCC as a freshman.
Upon graduation, they chose to make Corpus Christi their home. An enterepreneur, realtor, civic leader and owner of Nitra Business Consulting. Bob was recognized as a self-motivated, people-oriented, family focused businessman who enthusiastically shared his creativity and business expertise with countless community organizations, charities and churches.
Bob will be remembered for his love of camping, hunting, fishing and scouting that he shared with his beloved son Todd. His dedication and devotion to The South Texas Council of Boy Scouts of America gave him the opportunity to touch the lives of many young men and their families, both in the Coastal Bend and throughout the nation as he and Todd, both Eagle Scouts, traveled to scouting destinations across the United States. He served in numerous capacities with the South Texas Council of Boy Scouts of America coordinating numerous fund raising efforts, Serving as a Troop and Order of the Arrow Advisor, as well as presiding as council Commissioner and Chairman
Known for his winning smile, warm personality, passionate dedication to his community and charming ability to successfully raise funds for Coastal Bend charities, Bob shared his talents with the Corpus Christi Chamber of Commerce, American Heart Association, Multiple Sclerosis Association, United Way, Loaves and Fishes, Cerebral Palsy Association and St. Bartholomew's Episcopal Church. He also maintained memberships in the Art Museum of South Texas, Mid-Western Fraternity Association, Southside Rotary Club, USS Lexington Association, Gulf Coast Area Conservation, Antigue Auto Club Texas Association, Corpus Christi Ballet, Texas Association of Realtors, Optimist Club, Fraternity Executives Association, Naval Air Station Skeet Association, Texas State Aquarium Association, National Rifle Association, Duck Unlimited, National Sales and Marketing Association, National Association of Realtors, Corpus Christi Board of Realtors, Austin Healy Club of American and Texas A & M Alumni Association.
As a business man, Bob became familiar with all aspects of the real estate industry as a mortgage banker, real estate office manager, custom home builder, investor, property manager, reasl estate company president/chairman of the board, and a a residential real estate brokerage consultant. He was the former President and Manager of Blue Chip Builders Wiser Homes, a former owner and partner of the Corpus Christi Athletic Club and President/Chairman of the Board of Coldwell Banker Martin Realtors.
Bob was preceded in death by his parents James Dorsett Martin and Gertrude Childs Martin and his son James Tod Martin.
Survivors include his wife, Evelyn M. Martin of Corpus Christi, Texas, a brother Douglas Martin of Upper Montclair, New Jersey, his mother-in-law, Sonja Bernier of Bangor, Maine and sisster-in-law, Rose Roberts (Glen) of Ebeemee, Maine.
A sunset memorial gathering and campfire is planned for Saturday June 11, 2005 at 7:00pm at South Texas Council of Boy Scouts Camp Karankawa in Mathia, Texas.
Memorial gifts may be made to the South Texas Children's Home in Beeville, Texas or the South Texas Council Boy Scouts of America.
Click here to see Bob's last Profile entry.